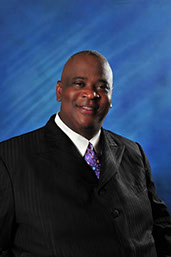 Apostle Tony A. Westley
Apostle Tony A. Westley is a man called by God to walk in the Office of an Apostle.
Apostle Tony A. Westley was born October 9th, 1958 to the late Ernest & Ollie Ruth Westley. Knowing that God had a plan for his life, Apostle Westley was reared in the church by attending services with his mother at Thomas United Methodist Church, later attending services with his father at the Little Zion B.C. where he was baptized by the late Pastor A. P. Clay. Having a good foundation brings about success in any area of our life. So Apostle Westley has had many great influential individuals to deposit the things of God into his life.
Apostle Westley has humbly centered his life around building Christ-centered relationships and serving God's people. His profound commitment to spread the gospel laid the foundation of his chosen path to preach God's Holy Word. In November 1982, Apostle Westley was licensed to preach the gospel and ordained in February 1986. After dilligently seeking the Lord and conferrering with his pastor, Rev. Charles Duplessis and getting his blessings and release, Pastor Westley organized and planted Spirit of Liberty Christian Fellowship in January 1987 and still serves as the founding pastor along with his wife, Prophetess Ina D. Westley. In January 1996 Spirit of Liberty Christian Fellowship was renamed Liberty In Christ Christian Church. Through his bold leadership, Liberty In Christ has made great strides. He has not only honored God with his commitment to preach His Word, but he has wholeheartedly dedicated his life in helping others find their way to Christ. His compassion coupled with a profound love for all has driven his desire to encourage others to live a life that never compromises the word of God.
Apostle Westley met and fell in love with Ms. Ina M. Darensburg, and they were joined in holy matrimony on August 4, 1979. Today they're the proud parents of three wonderful, beautiful, & anointed children; Rai-Jon (Crystal), Loren Westley & Monique (Craig) Smith. Each of whom have a relationship with the Lord and have an anointing on their lives. They're also the proud grandparents of 4 beautiful grandkids, Ian Anthony & Colin Alexander Smith, Melan & Melaya Mason.
Apostle Westley and the Liberty in Christ Christian Church are submitted in covenant with Bishop Vaughn McLaughlin & The Potters House International Ministries and Covenant Fellowship in Jacksonville, Fl. Apostle Westley is the founder of Liberty Christian Fellowship of Churches which also serves as the spiritual covering for 3 churches, 2 in the New Orleans area, 1 in Houston, Tx. He also serves as President of Interfaith Christian Fellowship of LaPlace, La..
It is Apostle Westley's desire to be a pillar of hope to those who may be lost or searching.
He is committed to winning souls for Christ, seeing marriages restored, & families healed and that another generation will begin to rise up and serve Jesus Christ.