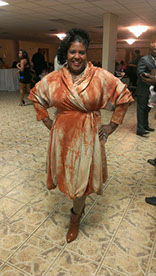 Prophetess Ina D. Westley
Often the call of God in a person's life goes unrecognized until it produces noteworthy proof of it's presence. There may be signs along the way that those with a sensitive spirit recognized, but cannot truly identify. This has been true from a child with Ina D. Westley.
Born October 20th, 1958 to Mrs. Myrtis Darensburg & the late Alfred Darensburg, Sr. Prophetess Ina D. Westley is the Co-Pastor of the Liberty In Christ Christian Church along with her husband of 35 years, Apostle Tony A. Westley. Together they've built a ministry that caters to the needs of God's people.
She is a woman whom God has graced and gifted with many anointings, and she moves in them fluently with excellence. She is an intercessor, an encourager to Pastor's wives, and Chief Administrative Officer of Liberty In Christ Christian Church. Prophetess Ina accepted her call to the ministry in 1993 and was ordained as a Pastor in October, 1994. In March 1997, God promoted her to the Office of Prophetess through the laying on of hands by Prophetess Connie Williams. The word of the Lord is sure and accurate in her mouth.
She and Apostle Westley are the parents of Minister Rai-Jon (Crystal) and Loren Westley, Monique (Craig) Smith and the proud grandparents of 4 beautiful kids Colin & Ian Smith, Melan & Melaya Mason.
Prophetess Ina is fueled with a passion to advance God's Kingdom, and to make His name a praise in the earth. Known for her firmness and straight forwardness, she has a tender heart for the people of God. She ministers effectively to the heart of God's people. Her desire is for women to break out of the box of limitations and expand their horizon to pursue purpose and destiny. She is valued for her wisdom and intellect, and her integrity is sound. Prophetess Ina is determined to fulfill every prophetic word spoken over her life. Her desire is to carry out the spiritual mandate that God has placed in her hands.